Why UEFA deserves credit for Nations League early success
Image Via Flickr/Nazionale Calcio. Used under Creative Commons.
When UEFA announced their thoughts and plans for their new Nations League concept, it was immediately laughed off... However, the European footballing powerhouses stuck to their guns and implemented the tournament anyway.
Then came the over-complicated rules, including the new promotion/relegation system, coupled with how it affects qualifying for the 2020 European Championships. Now to be brutally honest with you, I'm still not 100% sure how everything works, but one thing I know for certain? Excitement has been restored to a usually tedious time of the year for international football.
Let's be frank. For the majority, the mid-season two-week breaks to watch your country play in meaningless friendlies or relatively unimportant qualifiers is usually a burden. Well, not anymore. The Nations League has brought fresh life to an area of the game that has needed rejuvenating - and we're only in the early-goings.
For example, I'm a proud Englishman. In the years gone by, I struggled to find the energy to watch the Three Lions side stick six past San Marino. Quite frankly, it's just boring, dull and unimaginative. However, this time around, England went into a game against an excellent Croatia side where every outcome was still possible. Win, Gareth Southgate's men would be in the finals next summer, lose, they'd be relegated.
With so much on the line, the game itself lived up to the hype. Croatia took a late lead, but goals from Jesse Lingard and Harry Kane turned things around. For England, it was a revenge for their semi-final World Cup loss (of sorts). The excitement felt can only be comparable to a major tournament. Those only take place once every two years, it felt good to feel good about watching Southgate's men on a cold, chilly British afternoon in November.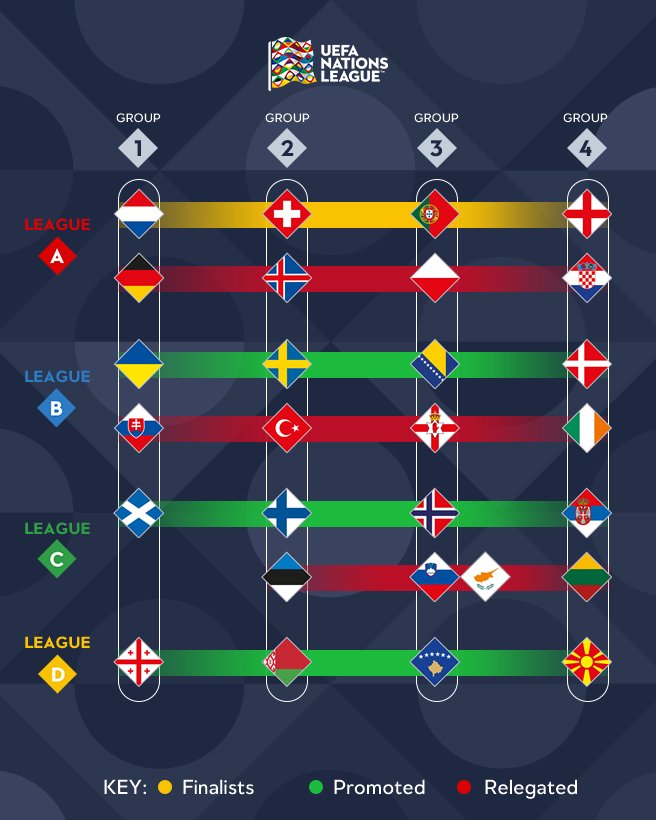 FINALISTS 🏆
🇵🇹Portugal
🏴󠁧󠁢󠁥󠁮󠁧󠁿England
🇨🇭Switzerland
🇳🇱Netherlands
B GROUP WINNERS ⬆️
🇺🇦Ukraine
🇸🇪Sweden
🇧🇦Bosnia & Herzegovina
🇩🇰Denmark
C GROUP WINNERS ⬆️
🏴󠁧󠁢󠁳󠁣󠁴󠁿Scotland
🇫🇮Finland
🇳🇴Norway
🇷🇸Serbia
D GROUP WINNERS ⬆️
🇬🇪Georgia
🇧🇾Belarus
🇽🇰Kosovo
🇲🇰FYR Macedonia
#NationsLeague
https://t.co/cA1pM9uAKG
It didn't stop there, though. Next on the agenda was a mouthwatering clash for the football hipsters; Switzerland against Belgium. The Red Devils ran out to an early lead thanks to a quick-fire double from Thorgan Hazard. A Ricardo Rodriguez penalty got the Swiss back on track. They'd go on to win 5-2 and top their group. The game was meaningful, the players had something to strive for, it showed. The real winner? Football. The fans. The people who the game simply cannot live without.
The excitement continued even in group D. Kosovo are an extremely young footballing nation. Even they have had their moment in the spotlight, earning an unlikely promotion to Group C. The point is that this isn't a tournament that only the European big-boys will enjoy. From top to bottom, every single country now has hope, belief, excitement, enjoyment.
We're always quick to stick the knife into UEFA for their wrongdoings (of which there are many), but we should be equally rapid to jump up and praise them, too. The Nations League concept is working. Sure, it needs some fine-tuning and no doubt they'll be further bumps in the road, but this is an extremely positive start and we're not even at the inaugural tournament's end yet. Who isn't looking forward to a four-team shootout between a heroic England, an ever-improving Holland, current European champions Portugal and an entertaining Switzerland?
It just goes to show that, with the right work, international football can be something to look forward towards rather than dread. Now, actually, the almost five-month wait until the next international break feels like an age away - and I'm actually rather upset about that.