Why Tammy Abraham doesn't deserve to spearhead Chelsea's attack
Background photo: Vespa, CC-BY-SA 3.0
Come August, Chelsea will have a decision to make with regards Tammy Abraham. Sell him? loan him (as the norm suggests)? or list him in their squad for 2019/20? Answering all that entails understanding the full dynamics surrounding the goalscorer. But we must get one thing straight from the get-go – Abraham isn't the man to lead the line for Chelsea in the near future. If you read a little further you might buy into the point...
Gem of the Championship
It's easy to assume Abraham is too good for the Championship. With 48 strikes in that division over two full seasons, the youngster is easily the best striker in England who isn't running out for his parent club. Bar weekly wage, Chelsea hasn't been too rewarding where on-field minutes are concerned.
Take the case of Leicester City's Harvey Barnes for instance. After roaming different lower-league clubs on loan for two full seasons, the 21-year-old was recalled to the King Power upon showing the slightest ember of form at West Brom. Barnes had scored nine times for the Baggies before 2018/19 was halfway through. Meanwhile, Abraham has plundered 60 goals in a hat-trick of campaigns away from Stamford Bridge.
Again, it's important to highlight the quality competition where Abraham has been shaking the net from. He's garnered a miserly five goals in the Premier League – if you remember his topsy-turvy spell at Swansea City.
Whether or not his goals (26) and assists (3) are enough to see Aston Villa win the 2018/19 Championship play-off, Abraham has proven there's nothing more for him to conquer in the second-tier. It's time for bigger responsibilities.
If not Chelsea
'If only' – how that phrase annoys realists. But one is forced to use it in Abraham's case. If only he wasn't playing for Chelsea. The lanky forward has exhibited the sharpness to command a regular shirt for any other Premier League side. Consider Manchester United's Marcus Rashford. And spot the difference between both Englishmen in terms of being a proper number 9? There isn't much to find.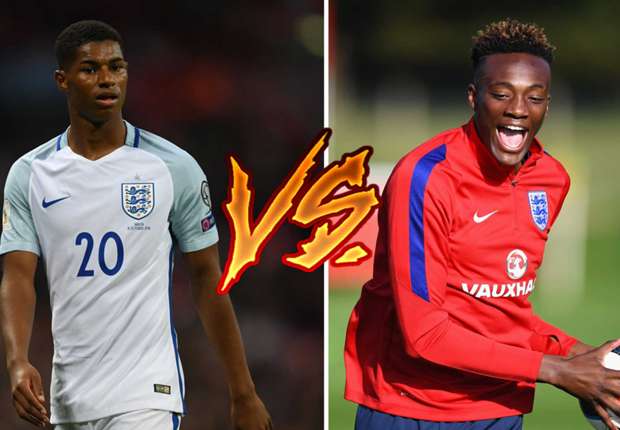 But Abraham won't spearhead Chelsea's attack next season. Even if Chelsea decides to keep him with their first team he won't get much playing time. The reasons for this perspective stare one in the face.
Abraham is 21, but he doesn't possess the physical attributes Chelsea requires in their centre-forward. Among the actual reasons why Chelsea fans turned on Alvaro Morata was his lack of physique – the man seemed too feeble, always falling over. At 21, Romelu Lukaku had the build of a giant and had scored more Premier League goals than Abraham has in the Championship. That explains why Everton quickly signed him from Chelsea.
The Blues won't put faith in Abraham until he replicates his Championship form in the top-tier. He didn't do that when he had the chance in South Wales. No thanks to injury.
Another factor worth considering is the calibre of strikers Chelsea have on loan. Michy Batshuayi and Alvaro Morata find themselves in the same situation as Abraham. In terms of how much was invested on the Belgian and Spaniard, Chelsea would rather give either the chance Abraham seeks.
It's almost impossible to read Maurizio Sarri's mind about the matter. Pointers indicate the Italian is bent on signing Higuain permanently. Not forgetting Olivier Giroud. Abraham simply hasn't done enough to displace these men. It's cliché to say Chelsea rarely gives youngsters the chance. Which is why Callum Hudson-Odoi is still considered lucky...
The options
It's time for Abraham to consider his options. He knows his qualities and must understand he's a far better chance of doing something great with his football career if he isn't Chelsea's property.
First, Abraham must move permanently to another Premier League club. The loan moves aren't doing his fledgeling career the good it seems. Lukaku is a worthy model.
For Villa, Abraham should prepare a goodbye speech if they don't win the play-off.
Forcing a move to a mid-table team in the elite league should be Abraham's primary objective. The likes of Burnley, West Ham, Southampton or Brighton can provide a haven.
The big leap for Tammy Abraham will come. But it won't be next season...