Why Harry Maguire can be equally at home in Old Trafford or the Etihad
Background Image Via: Wikimedia Commons/Pioeb. CC BY 4.0.
Both Manchester United and Manchester City need a new central defender this summer. Unquestionably, the grand centre-back prize is Matthijs de Ligt. For differing reasons, neither Mancunian powerhouse can obtain the superstar Dutchman. The Reds cannot promise Champions League football while the Blues couldn't guarantee the 19-year-old week-in-week-out starts. Enter Harry Maguire.
After rising to stardom following a stunning World Cup campaign just twelve months ago, the one they call 'Slabhead' has seen his stock ascend. Maguire has only been at Leicester City for two years but he could well be packing up and heading North - provided The Foxes' eyewatering £85million demand is met.
Immediately, fans baulk at the fact that Maguire would cost more than what Liverpool signed for Virgil van Dijk. Yes, the Englishman isn't even close to his Dutch counterpart in terms of ability but that doesn't mean he wouldn't drastically improve the situation at both United or City. He undoubtedly would.
Let's start with the Premier League champions. Pep Guardiola's side were pushed all the way by a spirited Liverpool but in the end, it was City left celebrating as they won their second consecutive top-flight title. The pivotal moment in the run-in? Vincent Kompany's thunderbolt against, somewhat ironically, Leicester... The 33-year-old has since moved back to Belgium to become Anderlecht's player-manager. He needs replacing.
From day one there would be an opening for Maguire to force his way into the starting line-up. Let's be honest, John Stones hasn't covered himself in glory while Guardiola doesn't seem fully convinced by what Nicolas Otamendi has brought to the table. City needs the perfect partner for an ever-improving Aymeric Laporte. Maguire would be ideal.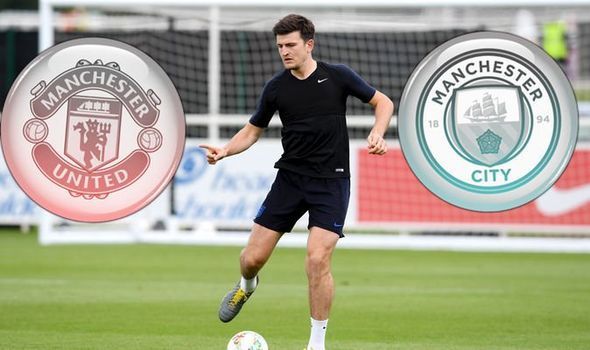 Leicester will allow England defender Harry Maguire to leave the King Power Stadium if their £85m price tag is met. (Source: Teamtalk)
https://t.co/OEhtDtvzoF
In terms of his skill set, Leicester's #15 ticks all the boxes Guardiola looks for. The ability to pass out from the back? Check. A cool, calm aura? Check. Dominant in the air and strong in the tackle? Double check. Plus, Maguire would add another British player to the homegrown quota, which also goes some way to explaining why the transfer fee is drastically higher than what you'd typically expect.
For Maguire, he'd be joining a perennial winner who'd improve his overall game. That could be a positive for both club and country, particularly heading into a campaign which ends with the European Championships; a tournament in which England have high hopes at success. What's not to like about a move to Eastlands?
On the flip side, United can offer plenty, albeit extremely different. Ole Gunnar Solskjaer is rebuilding this Red Devils team, and after shipping 54 league goals in 2018/19, a dominant centre-half is atop his wish list. Maguire would be a guarantee to start week-in-week-out should he move to Old Trafford, showcasing his talents to 75,000 supporters for the biggest club in the country.
Rather than being one of many cogs in the City machine, Maguire would be the focal point for United on defence. In terms of leadership, the 26-year-old would probably be the standout candidate. It could be his team as soon as he walks through the entrance door - giving him the opportunity to become an immediate cult hero. Make no mistake about it, the risk-reward upon Salford Quays is far greater, but you can bet he'd be compensated rather handsomely for that in terms of his weekly wage packet. Plus, the quest that is helping United back to the big-time may be a challenge that Maguire is excited by.
Either way, Maguire simply cannot lose. It's a transfer that benefits all involved wherever he ends up; heck, even Leicester will literally be laughing all the way to the bank...