What must Ryan Giggs change to ensure Wales qualify for Euro 2020?
Ryan Giggs is facing a defining moment in his managerial career. Wales' poor start to Euro 2020 qualification leaves the possibility of another red wave cascading over the continent – a la France 2016 - in jeopardy.
Back-to-back away defeats against Croatia and Hungary mean Wales sit 4th in Group E. Though they played well in spells against Croatia, they lacked a cutting edge and were disorganised and naïve defensively. The fixture Gods unkind to Wales, they travelled to Hungary three days later – yet lethargy or tired minds from travel were no excuse for what was a largely tepid display. Gareth Bale missed a sitter that he should've converted with his eyes closed.
It leaves Wales facing a task as daunting as the mountainous that guard the Welsh countryside from which Giggs' decided to unveil his latest squad: Llangrannog, a town that has a population of 775 people on Wales' west coast. The ex-Manchester United man should be applauded for his efforts in ensuring the national team reflects every corner and crook, yet such efforts of sentimentality will mean little if he fails to deliver.
The reality is this: even if Wales beat Azerbaijan twice and Hungary at home and earn a respectable draw away at Slovakia and at home to Croatia, it will still probably not be good enough. 11 points from five international fixtures is normally an impressive return, but Wales must either beat Croatia or Slovakia if they want to control their own fate – 13 points from a possible 15.
Croatia are unlikely to lose again and with home games against both Hungary and Slovakia, Luka Modric and co. should cruise to first-place. Wales and Hungary will tussle for second spot, as many predicted.
Even if Hungary lose to both Wales and Croatia away, they are still likely to finish on 15 points – with Slovakia and Azerbaijan at home both winnable games. Slovakia, facing Croatia home and away, Hungary away and Wales at home shouldn't threaten.
A straight shoot-out between Wales and Hungary. Guess what? Wales host Hungary at home on the final matchday. Just as Wales' fate was decided in 2018 World Cup Qualification against the Republic of Ireland at home, so too are their Euro 2020 ambitions likely to be determined.
Wales could be third on 13 points and Hungary second on 15 points. It's an enticing proposition – but let's not get too far ahead of ourselves.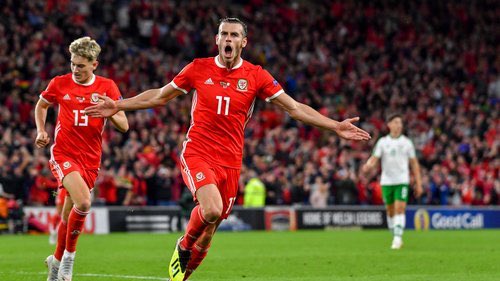 Wales have won their last 3 homes games in September, scoring 9 goals and conceding just 1
2018 4-1 v 🇨🇮
2017 1-0 v 🇦🇹
2016 4-0 v 🇲🇩
https://t.co/MLdaFtL7ha
Giggs needs to turn Wales' fortunes around first. He needs four wins and a draw to even get to that point.
Aaron Ramsey is yet to play a minute under Giggs in qualification and is out again on Friday when Wales host Azerbaijan. While Wales should still beat the team ranked 109thin the world, Ramsey being available post-Friday will be crucial.
While Gareth Bale has been available for selection, he has been missing on the pitch. The Galatico is a Welsh hero, but his recent performances in a red shirt have left a lot to be desired. The hope is that now he has been miraculously reintroduced into the fold at Real Madrid, scoring twice and assisting once in his opening three games for Zinedine Zidane, he will re-hit the impeccably high standard he has set for Wales. Having both a fully-firing Bale and the inventive Ramsey on the same pitch will provide a huge boost and their availability will decide Wales' fate.
However, Giggs' needs to stabilise his back-line. His hand hasn't been helped by the fact that Wayne Hennessey, Ben Davies, James Chester and Ashley Williams – defensive stalwarts under Chris Coleman – are either unfancied by their clubs or have endured constant injury set-backs.
Yet now is the time for Giggs to decide on a back four and stick with it. He has experimented with a centre-back duo of Chris Mepham and James Lawrence, but Lawrence, on loan at German club St. Pauli, looked out of his depth against Croatia. Both Joe Rodon of Swansea, and Tom Lockyer of Chartlon are pushing for a first-team spot and one of the two should start on Friday. Whoever Giggs' chooses should be Mepham's long-term partner. Leave the experimentation for friendly fixtures.
Wales' need a solid base and a back-line that captures the steel and stubbornness Coleman integrated prior and during Euro 2016. Only then can Wales' attacking players – and Giggs has an abundance – truly thrive.
It is an exciting time to be a Welsh fan; Manchester United's Dan James, Bournemouth's duo of David Brooks and Harry Wilson (on loan from Liverpool) and RB Leipzig's Ethan Ampadu (on loan from Chelsea) make up their most promising quartet of youngsters.
After spurning the Wolrd Cup qualification under Coleman and falling short in the Nations League – though they may get another bite at the proverbial should Denmark qualify – Wales fans fear the promise and talent Giggs' squad obviously boast may be squandered.
Barring an implosion by Hungary, Wales need: 13 points from 15; four wins and a draw; unbeaten. It's a tough task. Yet adversity should be relished, not feared...