Joao Felix: The birth of Portugal's next star
Benfica youngster Joao Felix turned heads this season in Portugal.
Portugal's post-Cristiano Ronaldo era glitters. While dusk falls on the talisman's career, a glut of youngsters jostle to carry the torch. Throughout this season, Benfica's teen sensation, Joao Felix took the lead.
Last season, Rui Vitoria was fed up. His Aguias didn't click in their most important encounter, the Lisbon Derby. The attack lacked teeth. His usually impenetrable backline offered free entry. Sporting Lisbon's offence capitalised.
Although the host was better, with superior possession, Sporting went ahead. Former Manchester United winger Nani converted from the spot five minutes past the hour-mark. From there, it seemed as though the visitors were leaving with maximum points.
Benfica toiled. Sporting defended stoutly. Attacks were repelled, efforts on goal shoved aside by Romain Salin. Vitoria faced a decision. He'd already introduced Andrija Zivkovic but the talented Serbian was coming up empty.
The manager went for broke with a double change. He sent Haris Seferovic and 18-year-old Joao Felix, who had amassed just 13 minutes of first-team football, into the fray. The latter needed two minutes to make his mark.
A pass was knocked out wide to Rafa, who clipped a hopeful cross into the penalty area. Felix drifted into the box, read the flight, peeled off to the back post and headed his side level. With the goal, he became the youngest Benfica player to score in their maiden Lisbon derby.
Since that August encounter, Felix established himself in the starting XI with remarkable performances. In 22 Primeira Liga appearances, the 19-year-old racked up 13 goals and set up eight more. He became the youngest player to score a hat-trick in the Europa League, against Eintracht Frankfurt.
His youth career didn't herald such success. Born in Viseu, a city in Portugal's central region, he was released by FC Porto after seven laborious years. Not for lack of talent, rather his slight frame. He was perceived as too petite, without the requisite physique to succeed at the elite level. Not every 14-year-old is a manchild like Romelu Lukaku or Gianluigi Donnarumma.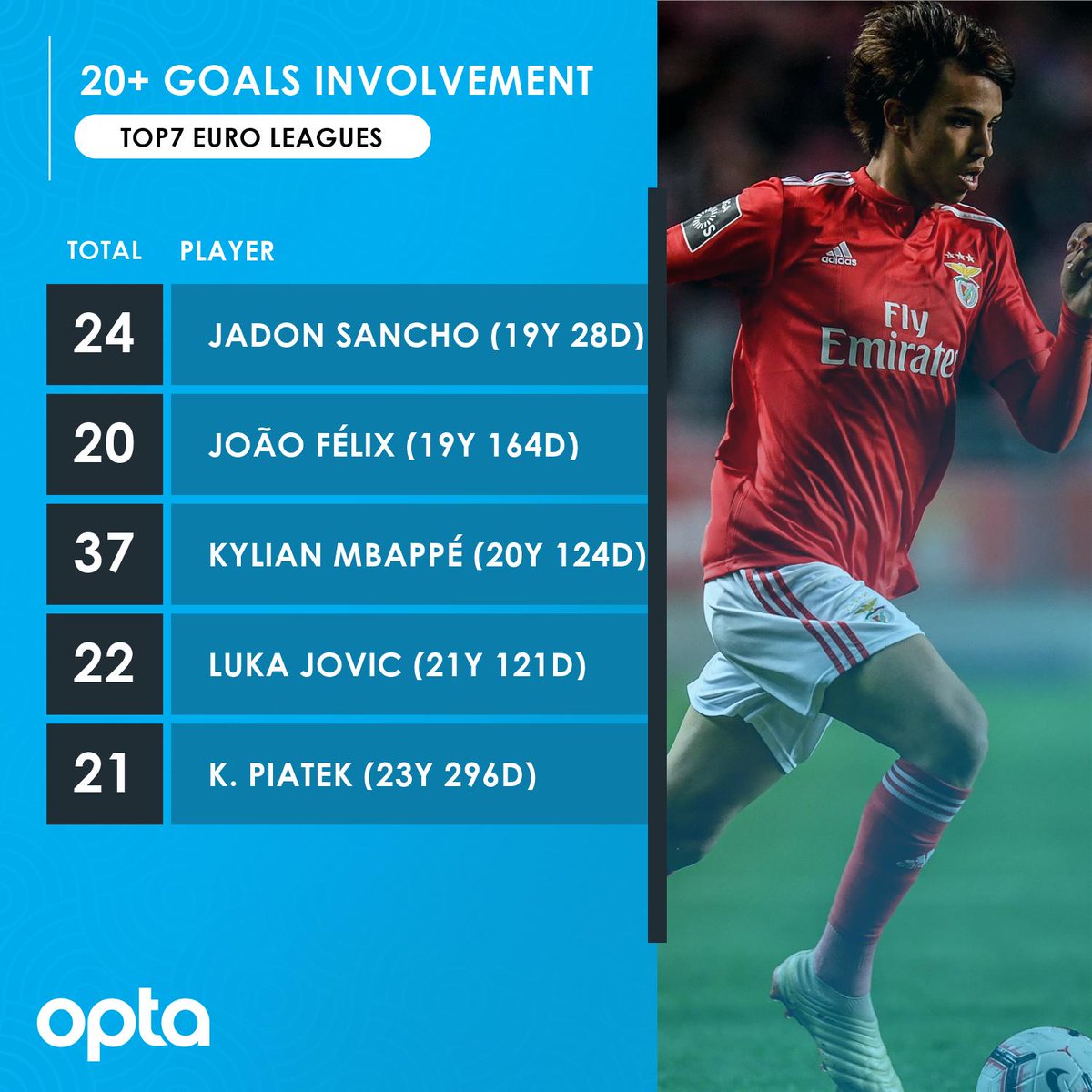 20 - João Félix is the second youngest player to have 20+ goal involvements in league football this season behind only Jadon Sancho at Dortmund (based on age today), among all players in the top seven UEFA ranked leagues in 2018/19. Talent.
https://t.co/krAG2FWTdd
Since signing with Benfica in 2015, Felix miraculously sprouted to 180 cm, growing into his immense talent. He burst onto the scene soon after and the record books welcomed him. In September 2016, he became the youngest player to feature for Benfica B, making his debut at 16. His first Portugal Under-21 call-up arrived a year later. He began training with the Selecao first team in February before making his debut in August.
Felix is the archetypal modern-day attacker. He can play in any advanced position behind the striker but prefers to start on the left flank, playing as an inverted winger. It's no wonder he draws comparisons to Cristiano Ronaldo.
With the ball at his feet, there are few teenagers in Europe more composed. He can beat opposition defenders with a trick or take out entire defences with exquisitely weighted through balls. His technique and vision are flawless.
It's clear Felix is a special talent. The barrage of interest attests. At Benfica, he is surrounded by other blossoming talents. Like Ajax with Frenkie de Jong, the Eagles will be proud rather than worried about their prodigy taking wing early.
Manchester United, Liverpool, Real Madrid, Barcelona, Juventus, Inter and AC Milan all want to sign Felix. Benfica will start the bidding high. They've placed a six-figure release clause in the youngster's contract. His deal extends to 2023 but Benfica will be fortunate to keep the youngster beyond the coming season. That's if they don't let him go this summer.