How did Getafe become so successful so quickly?
Jose Bordalas is the Madrid club's Mauricio Pochettino.
Success stories are always worth telling because everyone wants to know the 'how'. That's the question La Liga fans are asking about Getafe who are still fourth in the Primera Division this late in the campaign. How did El Geta reach such heights so quickly?
Founded in the early 80s, Getafe is only 35 years old. Most clubs that age struggle to keep their heads above water, especially in Europe's top five leagues. Clubs like the Bundesliga's RB Leipzig, formed nine years ago, are a rarity. Such cases usually reflect obscene financial backing. By comparison, Getafe keep their transfer kitty in a cookie jar.
It took Getafe 20 years to rise from the trenches to compete in La Liga. When they eventually did, they clung to top-tier status for 12 years before surrendering it in 2016. Like UFC light-heavyweight Anthony Johnson, they didn't stay down long.
If you kept tabs on Getafe over the last two-and-half years, you couldn't help but be impressed. Eight games into their 2016/17 Segunda Division season, the Deep Blues were second from bottom after eight games. Somehow, they bounced back, finishing third and winning promotion in the playoffs.
In 2017/18 Getafe surprised everyone, including themselves, by finishing eighth in their La Liga return. This season, they're gunning for more. The Azulones may very well qualify for the Champions League.
The tiny Madridista club is poised to pip Sevilla to the fourth and final spot. Locked with the Rojiblancos on 55 points, El Geta humbled their rivals 5-0 on aggregate over two legs in the league. Head-to-head record, not goal difference, is the first tiebreaker in La Liga.
As I said, the question is how?
A clubhouse is nothing but the people in it. Take away those brilliant minds pouring their souls into a project and the locker room might as well be a graveyard. Getafe is blessed with some excellent football brains. It all stems from the top.
Angel Torres
Torres can be mentioned in the same breath as owners like Roman Abramovic and the late Vichai Srivaddhanaprabha if you understand the measuring stick is passion, not net worth. His love for the club puts him in elite company.
Torres was born to a Toledan family who immigrated to Getafe when he was a kid. He made his millions in construction and bought Getafe in 2002 after persistent persuasion from the Getafe Mayor. Since then, Torres has nurtured the club like a baby.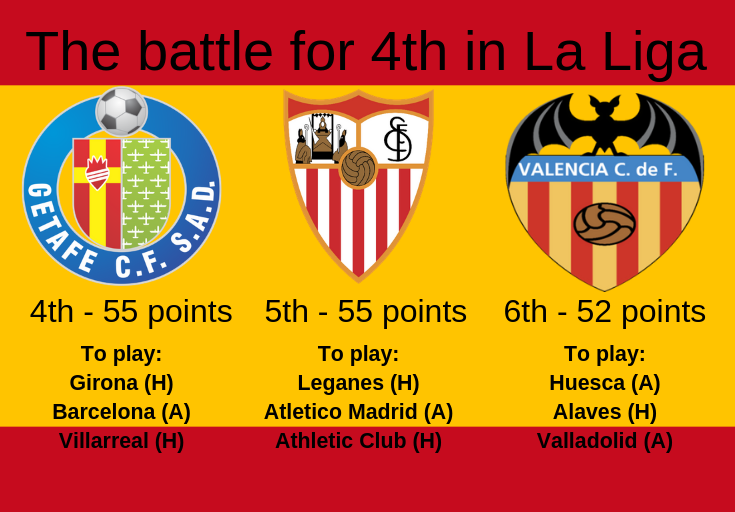 As you were in the battle for 4th after Getafe, Valencia and Sevilla all lost today! Geta still in the box-seat but it's tight!
https://t.co/6NGrB1Y8fZ
Thanks to the building magnate, Getafe survived the biggest storms that challenged the club's future. They escaped administration in 2015 and are presently worth £85 million according to Transfermarkt.
The turnaround came when Torres learned to recruit quality players on the cheap to build a solid, consistent squad.
Jose Bordalas
When a club does well, the manager gets plaudits. Jose Bordalas deserves his after rolling up his sleeves and putting in some astute tactical work for Getafe.
Handed the job in 2016, the 55-year-old was allowed to retain it after helping the Deep Blues regain their Liga status. His team has grown from strength to strength since.
The former striker does things by the books and gets results. The relationship he builds with his players is enviable. Like Pep Guardiola, he drives each man to the limits of his ability.
Bordalas lines his team up in a traditional 4-4-2. His Getafe side is known for their resolute defending and swarming attack. Like angry bees, they pack a real sting but they don't die after delivering it. Getafe allowed just 31 goals in La Liga this term. Only Atletico Madrid has conceded less.
Key players
Every team has a core group around which the squad is built. In Getafe's case, five men catch the eye.
David Soria is among the best goalkeepers in La Liga. His 12 Liga clean sheets put him third in the running for the Zamora.
Midfielder Djene Dakonam is Getafe's version of Barcelona's Sergio Busquets or Manchester City's Fernandinho, the iron post on which you stub your toe, the buzzing bee that won't leave you be.
In attack, Jorge Molina and Jaime Mata account for 27 goals and 10 assists between them. Add the goal threat posed by Angel Rodriguez (seven Liga goals)and you understand why opponents can't judge a book by its cover when they come to the Coliseum Alfonso Perez.
Signing these excellent players for ignoble sums is why Angel Torres deserves greater notoriety than he receives toiling in Real Madrid President Florentino Perez's considerable shadow. A Champions League berth will be nothing but the icing on a lovingly baked cake.