Former Gunner finding success with PAOK
Expected to light up the Emirates Stadium for years to come, Chuka Akpom disappointed. After several loan spells and a few appearances for the Arsenal first team, the Londoner was let go. He joined PAOK Salonika last summer on a three-year deal, ending a long relationship with Arsenal that began when he was a little boy. Instead, the 23-year-old found joy in Greece. His new team is doing big things in the Greek top flight.
PAOK is in top form this season, clinching the Greek Super League. The side last became champions in 1985. Akpom is part of the new-found success. Although the former Arsenal youngster's contributed just six goals to the cause in all competitions, it's not a bad beginning. Most importantly, he is playing regular first-team football and winning silverware. Success breeds success.
The Salonika squad remains on course to win the Greek Cup as well the league and play in the Champions League come next season. , holding a 2-0 first-leg advantage in the semifinal against Asteras Tripolis. Winning the double will be a huge achievement for Razvan Lucescu's men.
As for continental football, if everything goes well for the side, they'll be rubbing shoulders with European giants, ample opportunity for Akpom to showcase his skills and scoring ability. That said, there is still a long way to go. Five goals in 19 league games for a striker leaves something to be desired. Fortunately, the young man has all the time in the world to work on his game and become more lethal in front of goal.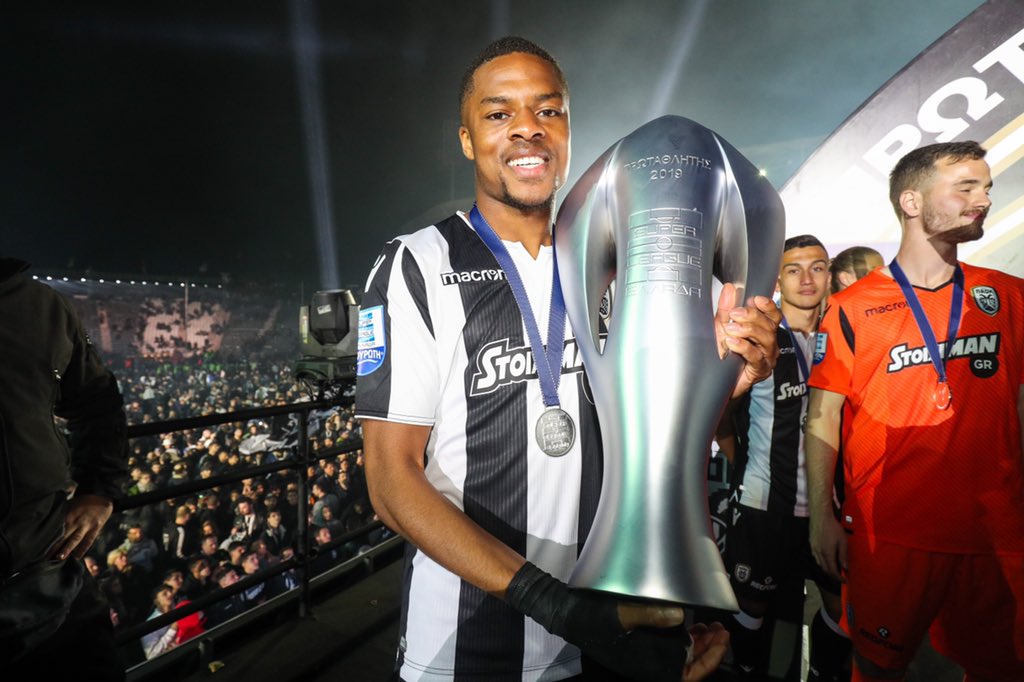 🏆Super League Champions🏆 Wow... after 34 years i'm honoured to be apart of making history with this special club. The love and support i've received from you fans has been amazing and i honestly appreciate it. This moment will stay with me forever.❤️⚪️⚫️🏆 #
PAOK
@
paok_fc
https://t.co/upZgCIq29d
While players like Jadon Sancho and Brahim Diaz garner headlines, Akpom should be commended for travelling so far from home and immersing himself in a vastly different culture. Staying put at Arsenal would only mean more loan spells or watching from the bench. In itself, that is not a bad thing but there is also something to be said for regular football even if the competition and mentality are not quite at the Premier League level.
Exposure to European football also exposes him to scouts from other clubs, opening new avenues in his career. Playing against some of the best players in the world will allow clubs to see his potential. Winning silverware early in his career provides a sense of accomplishment that can only boost his confidence. Players and managers alike are judged by the trophies they've won. The sooner the better.
At PAOK, Akpom is well-placed to develop his game in a less pressurised environment. He can take his time to build a reputation as a proven scorer. That will be his best selling point, attracting offers from big clubs beyond the Premier League. He is well on his way to realising every player's childhood ambition to play at the highest level both domestically and on the continent. His decision to leave the Gunners for the Black-Whites is proving a wise choice.